Destiny Muhammad EPK
"

Destiny Muhammad is masterful, exploratory musician that builds on the legacy of pioneering Jazz Harpist like Dorothy Ashby and Alice Coltrane. "
— SF JAZZ
Press Photos
BIOGRAPHY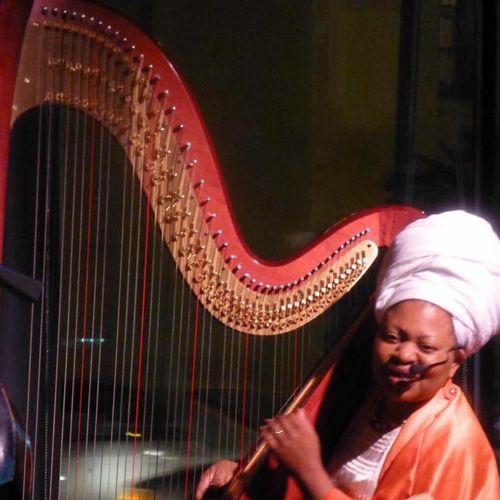 Bio
Jazz Harpist-Vocalist/Composer/Producer Content Creator & Curator/ MusicPrenuer
Teaching Artist JAZZ & Social Justice.
Whether interpreting jazz standards or her original tunes, Muhammad turns every piece into a soulful adventure.' Yerba Buena Gardens Festival 
'While certainly inspired by Alice Coltrane, Muhammad brings her own unique touch to the strings, as well as a contemporary melodic style that is exacting, whether she is working solo or accompanied'
Denise Sullivan | DownBeat Magazine 
'Destiny Muhammad is a masterful, exploratory musician.'
SFJAZZ  www.sfjazz.org
 
Destiny Muhammad is a Recording/ Performing Artist | Band Leader | Composer & Producer. Her genre 'Celtic to Coltrane' is cool and eclectic with a feel of Jazz & storytelling to round out the sonic experience. 
Destiny has curated concerts for Grace Cathedral Christmas Concert Series, SFJAZZ Tribute to Jazz Harp Legend Alice Coltrane,  S F Symphony SOUNDBOX Series featured guest for  GRAMMY Winner Kanye West 'Sunday Service', shared the stage with Jazz Masters  Marcus Shelby, Omar Sosa, Blue Note Artist Ambrose Akisemuire, and Azar Lawrence to name a few. She has headlined The Healdsburg Jazz Festival, Sunday's in the Redwoods Concert, Seattle's Fest Sundiata  and  ButcherTown Jazz Fest, Healdsburg Jazz Festival 
Destiny is the Principle Harpist for Jazz Master Eddie Gale's Inner Peace Orchestra, The Oakland Community Orchestra,  performs with The AWESOME Orchestra.
Destiny is Governor Emeritus and Educational Chair Emeritus of the Recording Academy,  ASCAP Songwriter Awardee, California Entertainers Music Awards Female Jazz  Artist of the Year Winner, SFJAZZ Teaching Artist,  Bay Area Jazz and Blues Award Winner (BAJABA) and Raise Karma Virtual Residency Alumni.
" 'I hope to organize events that touch people and feel uplifting, and this is exactly what the Destiny Muhammad Trio brought. The band's sound was amazing.'"
— Chika Okoye, Curator of 'The Black Life' series @ BAMPFA
"'While certainly inspired by Alice Coltrane, Muhammad brings her own unique touch to the strings, as well as a contemporary melodic style that is exacting, whether she is working solo or accompanied' "
— Denise Sullivan | DownBeat Magazine
Destiny Muhammad School Day Concert: Jazz & Social Justice